News
Reflecting back and looking ahead. Summit Construction Company celebrates 25 Years
Dec 28, 2018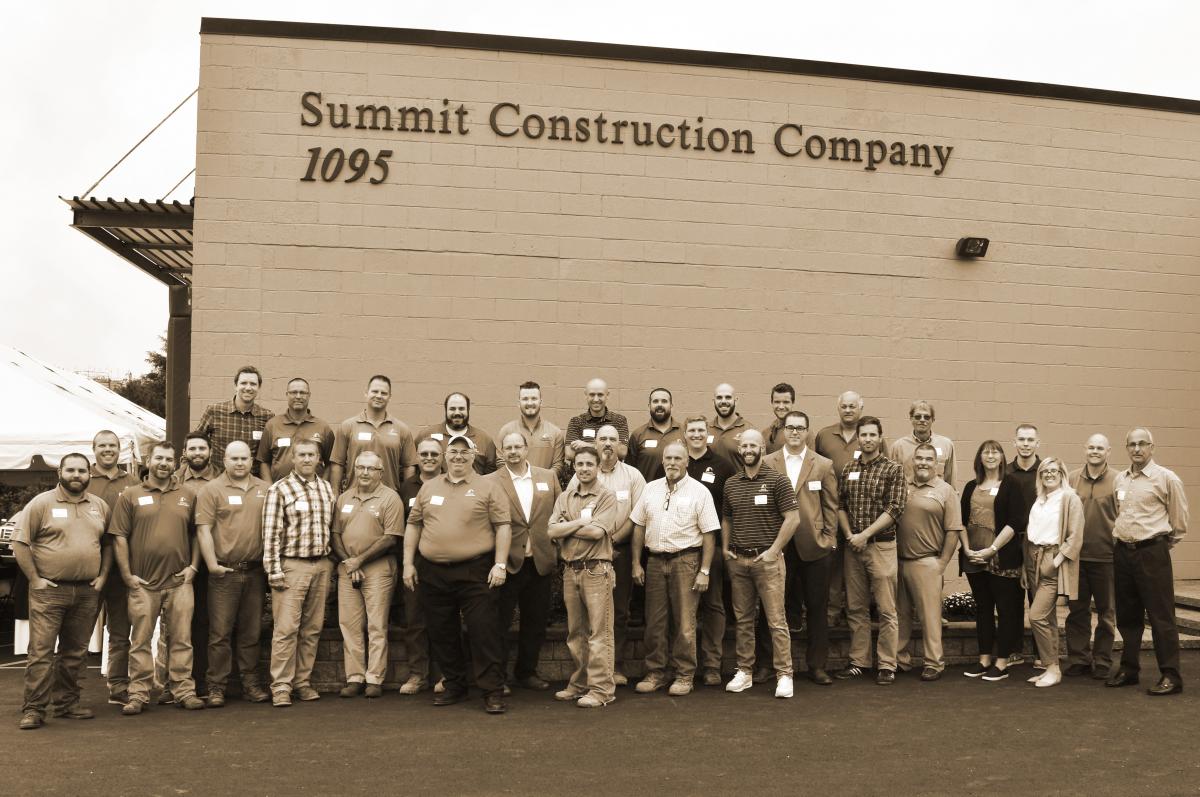 Akron, Ohio
Words by: Jason Winkler, President, Jasen Conner, Vice President, Louis C. Ciraldo, Controller and Louis. J Ciraldo, Founder of Summit Construction Company
Then and Now
I remember doing everything with pen and paper.  We used to handle RFI's, change orders and work tickets in the field with the carbon paper forms (White/Yellow/Pink).  I would markup submittals with a red pen, stamp with a rubber stamp, and then make 6-7 hard copies to submit for review.
Things seemed to take longer–the communication in and of itself.  It was the days of fax machines, leaving messages that people actually wrote down. It was not unthinkable that someone would take three days to call you back with some sort of correspondence.  Before "smartphones" were around and cost effective, we had Nextel walkie-talkie phones.
Since these days, the construction industry has changed a bit.  From baby boomer trade school popularity to today's labor shortages, storage moving from filing cabinets to the cloud, the growth of digitization, to leaps and bounds of technology.
In the next 25 years we're going to see an ongoing attempt to minimize labor within the industry–masons laying block may turn into a robot laying block and prefabrication will become more standardized.  But we're not sure about the quality or consistency in these endeavors.  Of all the changes in the past and those soon to come, few things about a company remain.  Two of them being their people and their purpose.
Time frames are getting shorter and shorter as everyone wants everything yesterday.  To meet these increasingly challenging schedules, it is the relationships and communication our people prioritize that will lead the way.  Technology allows us to be more efficient, but you still need to have people involved from top to bottom.
Building the Summit Culture
When people hear Summit Construction Company, I want them to think "The summit. The top. The best contractor in the land." Our employees follow Summit Construction's 10 Point Challenge and Corporate Mission, with honesty and communication at the center.  
It's a family here. It's a team effort.  We're not about big and flashy.  Over time, we've built a culture that values integrity, honesty, hard work, humility and fun.  Most clients we work with might only build one or two projects in their career–we want their experience to be a memorable one.  
Getting to 25 Years
Arriving at 25 years in anything is a challenge. In trying times, perseverance is key.  The most important piece of the puzzle is having a leader who was hardworking and loyal to his employees along the way.  From an external perspective, it's the relationships you keep in the good times that will prove you well in the bad times.  Always treat owners, architects and subs the way you'd like to be treated.
Looking Ahead
The future for us is leveraging rugged individualism.  The growth of the company is going to come from within–the entrepreneurial spirit of our employees will have a lot to do with it.  Another important part is adapting to the client's needs and adapting to change.  New leadership at Summit is very adaptable to change and to what is going to make us successful.  

In the next 25 years, we look forward to building new relationships and strengthening those that are present.  We look forward to challenging and giving our employees room to grow and maximize their potential.  We look forward to seizing opportunities in education.  We look forward to spreading awareness of careers in the skilled trades to students we meet.  We look forward to treating our clients as partners. We look forward to Building Visions into Reality.
---
  As we transition into the new year, we would like to thank all of those who help fuel our purpose and make our evolving journey possible. - With gratitude, The Summit Team