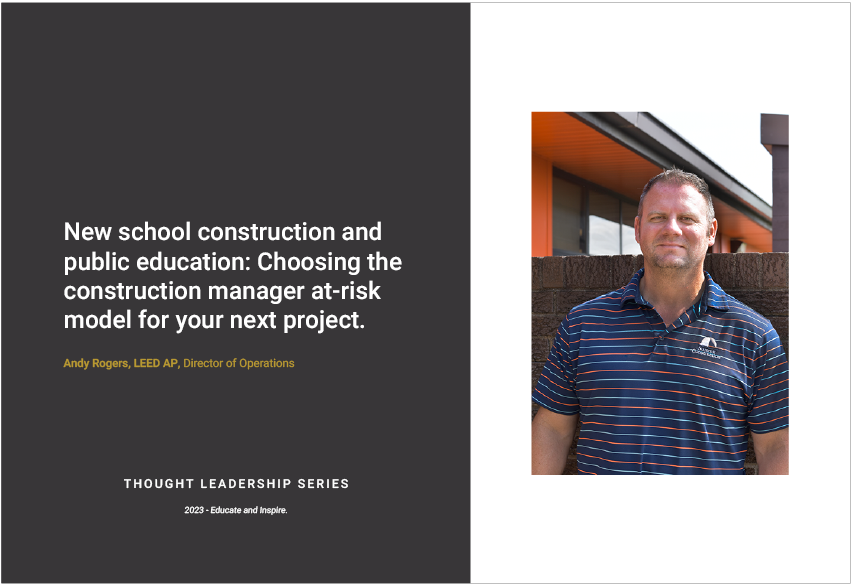 There are many ways to facilitate a large-scale school construction project. Summit Construction Company specializes in the construction manager at-risk model, delivering dozens of projects across Ohio both on time and under budget.
Construction manager at-risk (CMR) is a delivery system requiring a commitment by the CMR for construction performance to deliver the project within a defined schedule and guaranteed maximum price (GMP.) The GMP is provided to the owner prior to the bid stage. In regard to the "risk," the construction manager (CM) is responsible for any costs exceeding that amount.
A CM solely represents the interest of the owner, advising on critical project decisions and general project management. The CM oversees the project from design to construction close-out, while maintaining responsibility for delivering the project on time and on budget.
In this project delivery system, the CMR holds the single contract with the owner and all subcontracts with subcontractors. Utilizing multiple subcontractors allows for a competitive bidding process and the engagement of trade professionals in your local market. This is driven by subcontractor prequalification, a collaborative effort during the design phase to ensure only qualified subcontractors are part of the overall bidding process. The GMP is typically formed during the construction document phase of the design, allowing for the CMR to begin procuring subcontractors while building documents are finalized.   
Our extensive experience managing K-12 education projects means our team is attuned to the financial and technical specifications of public school districts, as well as the importance of contractor integrity and compliance with public policy. All public education projects ultimately belong to the community, and we will assist you in maximizing any timeline or budget constraints.  
As the CMR is selected early in the design phase, we can provide input on overall project budget, cost, schedule, and constructability. Our average variance between budget estimate and actual bid ranges from 1-3% below budget.
Ready to discuss how Summit Construction can lead your next CMR project? We provide construction management at risk services for public school districts and private school systems. Our expertise ranges from early childhood to the collegiate level, spanning new builds to additions and renovations.
Check out our Educational Projects page to see examples of some of the exciting work we have completed for our Ohio construction management clients. Contact us today to connect with one of our CMR experts.
This article is part of Summit Construction's Thought Leadership Series. Summit Thought Leadership is a series of articles where our company's thought leaders contribute knowledge and insight on important construction industry topics and innovative thoughts for the future. Our purpose is to provide value about construction management, company culture, sustainability, diversity and inclusion, and more.